The Count of Monte Cristo
Can You Discover who Batrayed you in time?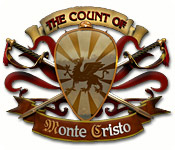 This review is on The Count of Monte Cristo
Before we get going lets go over my rating system and a little about the reviewer(s) for the game.
The Rating System
Defeated - In My opinion this was Horrible, worse than a clown that cant juggle, do balloon animals, or make you laugh.1xp - 4xp = sub par games
5xp - this is average
6xp - 8xp - better than average in my opinion
9xp - a near perfect but something is holding it back
Leveled - this is so close to perfect or is perfect in my opinion
* Easy to play - What this is if you can just pick up the game and play with little or no guide needed
* Easy to learn - This is usually were a game can lose a player and then you spend some time figuring it out.
* Age - Recommended age for the game, I will put the game rating here then my opinion as well.
* Fun - This is how fun the game was to them, If the game isn't fun why play it?
* Variety / Attention holding - This is important to have options maybe its different levels , many games who know but if its the same thing over and over it will get boring.
* My opinion - this is the reviewers final thoughts on the game and the final Over all rating
Ok now the Reviewers
Online Gamer Richie - Hard Core Gamer with a passion for games. Favorite games mmorpg's, and casual puzzle games, and anything strategic like chess. Not a big sports game fan, or one for splattering of blood and guts. Big on game play, Love graphics but if it hurts the game play forget it. Like games with a good plot.
The Count of Monte Cristo the Game
In the game "The Count of Monte Cristo" You play as a Edmond Dantes, a man who escape from a dangerous prison to exact his vengeance on those who betrayed him, but before you can do that you need to discover who betrayed you.Will you be able to discover who it was that betrayed you in time or will time just run out?
System Requirements for The Count of Monte Cristo:
OS: Windows 2000/XP/Vista
CPU: 600 Mhz
RAM: 128 MBDirectX: 7.0
Hard Drive: 58 MB

Reviewer(s)
If you like finding things, then The Count of Monte Cristo game is for you. It has plenty of hidden objects to find from bells and hammer to animals and fruit. The areas you go looking for the items in are amazingly nice. Search carefully because you could be looking for the item and not even realize it. The game gives you 5 free finds, once you run out you can go play a mini game that may unlock more hints be careful though these mini games are not easy.
The Major plus for this game is just about anyone in the family can play this game.The designers of this game made everything pretty easy to learn and do. It's all point and click.
Once you find the object it will leave the picture. Also I like the fact that there are other games to play from time to time allowing your brain to reset for another session of looking.
Couple neat things: The Areas
There are several different areas each with its own unique look, you may switch between the areas that are involved in your investigation to find who betrayed you.
-Online Gamer Richie-
* Easy to play - Definitely easy to play its all point and click finding the objects on the other hand is not as easy as it sounds. Rating - 8xp
* Easy to learn - Yep this it was as well no manual needed to play it find the hidden object and click it. Rating - 9xp
* Age - This really isn't a rating but just about any age could play this game it is however very tough to find the objects and sometimes the object is what it says it is but not in the way young children will think. So I say 10+
* Fun - The game is fun I did like it. You can play and leave come back and continue on your search which really helps when your brain is not working after about 30 min of staring going where is it. Also the fact that there are other games ( mini games) that happen from time to time Rating - 7xp
* Variety / Attention holding - Variety Not as much as I would have liked but more than other hidden object games I have played. The different areas are nice. The mini games are kinda fun. It how ever is still pretty much your standard hidden object game. Rating - 7xp
* My opinion - I like the game, I do think they could have added a few more mini games. Rating - 8xp
Tips for The Count of Monte Cristo
Find as many as you can in a room then switch to another room.
If you are freezing up pause or leave the game come back a bit later with fresh eyes.
Do you have a great tip for this game? Want to share it? if you do go to the contact page and let us know your tip include your gamer tag so we can give you credit.
As Always
Play the Game your Way
Laterz





Return from The Count of Monte Cristo to Casual Games




Return to Home
About Me
Contact Us
Resources
Sitemap