Awakening The Dreamless Castle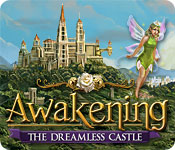 Awakening The Dreamless Castle another...
(article continues below)
Hidden Object Game.
It Seems that Hidden Object games are all that are being made sometimes. So the question is whats different about this one than from all the others?
Not much as far as how you search for the items and click, However this game is more quest like than many of the others I have tested out. You will do some retracing of steps to remember clues. Find items that allow you access to other areas.

Also there are plenty of side games that are not hidden object based that you will keep you playing for a while.

The Awakening The Dreamless Castle Story
It seems that you play a Princess. After Awakening in a mysterious castle You soon discover that you need to collect clues and valuable items to solve puzzles so you can escape!
Listen to your fairy friend as she gives you tips and guides you towards the exit. Play fun mini-games and solve clever locks to make it to the next room in the castle. Use your Hidden Object skills to search for the next hint and discover a young Princess' destiny.
Online Gamer Richie Thoughts on
Awakening The Dreamless Castle
If you like adventure and Hidden Object Games, you are most likely going to like this game. If you want a relaxing casual game this one is perfect for that. The music has a calming effect its soft and light, but not so much that you fall asleep (unlike many others).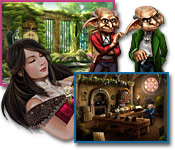 The biggest problem with this game is sometimes hard to figure out what to do next. So if your not one who like to figure it out on your own they did create a Awakening: The Dreamless Castle Strategy Guide to go Along with the game.
So is Awakening The Dreamless Castle worth it? I say yes it is if your going to use it for relaxing, give to a child to play, or love hidden object games. Otherwise you might want to skip it.
OR
Do what I always do Test it out.
The Rating:
A Solid 7 Exp mainly because its basically the same Hidden object games we seen with just a small twist to it. Enjoy all.
System Requirements:

OS: Windows XP/Vista/7
CPU: 1.0 GHz
RAM: 512 MB
DirectX: 8.0
Hard Drive: 137 MB

Available for Mac users as well.
As Always
Play The Game Your Way
Laters
Return from Awakening The Dreamless Castle to Casual Games
About Me
Contact Us
Resources
Game'N Your Way Store
Sitemap
About Me
Contact Us
Resources
Game'N Your Way Store
Sitemap